Your Body, Your Story, Your Screen
A look at how our experience forms our body and how screen time changes both
A Presentation for Schools & Parents
You've noticed the countless heads bent over a phone, felt the ache in your shoulders and eyes after hours on a computer, seen screen-bound children who struggle to move on the playground. What effect is our screen time having on our bodies and lives? 
Our story is stored in our body through its habitual structure. Well-practiced patterns of perception and movement become embodied as skills or capacities that we use in everyday life - the upright gait, the ability to speak, read, and write, the way we interpret our experiences. These skills, habits, and experiences become what we can do today; hence, body memory is our lived past, our story.
Habitual and traumatic implicit memories can be felt in the body through tightening and hardening of the facia, a thin connective tissue that surrounds and holds every organ, blood vessel, bone, nerve fiber and muscle. This wonderous material connects every part of our body, and constrictions in our facia deprive us of full movement and lock us in our current story.
As our screen technology captures our attention and limits movement, our story is written by our device. What happens to our body and our story then?
We'll end by exploring methods of reconnecting to the body to calm and reclaim it.
Runtime: 52 minutes.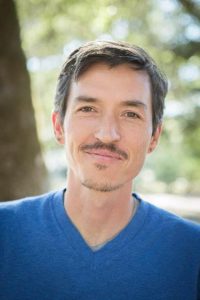 About Ben
Ben Klocek, web designer, teacher, and Sacramento Waldorf School alumni, has worked in tech for over 20 years and has been studying how our use of screen technology affects our lives. He teaches technology and woodworking in a Public Waldorf charter school.
He is the father of two girls, ages 11 and 14, and is an avid naturalist, artist, and gardener.